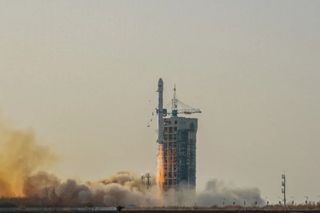 Liftoff of a Long March 4C rocket from China's Jiuquan Satellite Launch Center carrying the Gaofen 3 (03) satellite on April 6, 2022.
(Image credit: CASC/Zhuang Jiajing)

China launched a new high-resolution remote sensing satellite on Wednesday (April 6) to boost its ability to monitor ocean activity.
The Gaofen 3 (03) satellite lifted off atop a Long March 4C rocket from the Jiuquan Satellite Launch Center in the Gobi Desert at 7:47 EDT April 6 (2347 GMT; 7:47 a.m. local time on Thursday, April 7), with insulation tiles falling from the rocket as it climbed into the sky.
The satellite will produce 3.3-foot (1 meter) resolution radar images to assist marine disaster prevention and mitigation, dynamic marine environment monitoring, environmental protection and other activities, according to Chinese state media (opens in new tab).
Related: The latest news about China's space program
The new satellite joins two earlier Gaofen 3 satellites in orbit, all circling roughly 469 miles (755 kilometers) above Earth in sun synchronous orbits. 
The earlier pair were launched in 2016 and 2021, respectively, and will together form a network to allow more frequent passes over particular areas of the Earth.
The mission was China's ninth of 2022, with the country planning more than 50 launches this year.
Follow us on Twitter @Spacedotcom (opens in new tab) or on Facebook (opens in new tab).  
Join our Space Forums to keep talking space on the latest missions, night sky and more! And if you have a news tip, correction or comment, let us know at: [email protected]
Andrew is a freelance space journalist with a focus on reporting on China's rapidly growing space sector. He began writing for Space.com in 2019 and writes for SpaceNews, IEEE Spectrum, National Geographic, Sky & Telescope, New Scientist and others. Andrew first caught the space bug when, as a youngster, he saw Voyager images of other worlds in our solar system for the first time. Away from space, Andrew enjoys trail running in the forests of Finland. You can follow him on Twitter @AJ_FI (opens in new tab).