Readers offer their opinions on Saskatchewan's strategy for small modular nuclear reactors and the cost of a new downtown Saskatoon arena.
Author of the article:
Phil Tank  •  Saskatoon StarPhoenix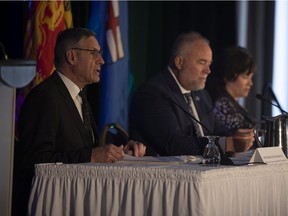 Renewables support a fantasy in Sask.
Recently, the Saskatchewan government announced that it plans to generate 60 per cent of the province's power from solar, wind and geothermal by 2034. To this end, the Moe government has agreed to provide generous incentives to individuals and companies wishing to sell renewable power to the grid.
Also, the Moe government has decided to support the federal plan to build a cross-country energy grid. When transmission lines to Manitoba are completed in 2034, Saskatchewan will purchase enough green hydroelectric power that coal and natural gas will no longer be needed.
These initiatives will not only position Saskatchewan as a leader in the transition from fossil fuels, but will create thousands of good-paying jobs.
But, of course, the above is a fantasy. The current Saskatchewan government does not appear to be interested in renewable energy.
Instead of investing in cost-effective renewables and green energy from Manitoba, this government has decided to spend some $20 billion on four yet-to-be-developed and untried small nuclear reactors.
Meanwhile, in the U.K. the government is moving swiftly to invest in renewables and to use storage batteries to guarantee a base load when needed. Germany has been encouraging the development of renewables for several decades.
Saskatchewan, along with Alberta, has the greatest potential in Canada to generate renewable power and certainly very much greater than the U.K. or Germany. In Alberta, private companies are moving ahead to capture this potential because it makes economic sense.
Here, SaskPower, tied to the Moe government's agenda, appears unwilling to take renewables seriously.
Paul Wilkinson
Saskatoon
New Saskatoon arena too costly
Re: Event district could be 'pivotal' for city: official, April 6.
The main thing to say about the proposed new arena and entertainment/convention centre is that we can't afford it.
A story in the March 21, 2018 edition of the StarPhoenix told how the estimated cost of the new centre is "between $330 million and $375 million."
Well, you can bet your bottom million that inevitable construction overruns will increase the costs to $400 million or so and thus add nicely to the city's debt, which is projected to peak at $439 million in 2025.
Mayor Clark says he's looking to both the provincial and federal governments to kick in. I'll bet he is. But that's taxpayers' money too, folks.
Meanwhile, the city has just built two new bridges at a cost of about $250 million (or a staggering $497 million, apparently, if you factor in operational and maintenance costs over the next 30 years), a police station ($122 million), and has plans for a new (urinal-less) library ($134 million) and more.
So, until these brutal costs have been taken care of, subsequent generations should not be burdened with the taxes needed to cover off the proposed entertainment complex.
Wayne Eyre
Saskatoon
SHARE YOUR VIEWS
The StarPhoenix welcomes letters, which are limited to 250 words and must include the writer's name, street address and phone number.
Submissions will be verified and edited before publication.
We publish the names and community of all letter writers.
Do not send email attachments.
Writing more than one letter a month is discouraged and "open" letters are not accepted.
Send to: 204 Fifth Ave. N., Saskatoon, Sask., S7K 2P1
Fax: 306-657-6437
Email: [email protected]
Want to know how we decide what to cover and how editorial decisions are made at the Saskatoon StarPhoenix and Regina Leader-Post? Get the weekly Letter From the Editor newsletter from the Editor in Chief Russell Wangersky and join the discussion on what goes into covering news and delivering commentary, both in print and online. Click here to subscribe.
Saskatoon StarPhoenix Afternoon Headlines
We deliver the local news you need in these turbulent times on weekdays at 3 p.m.
By clicking on the sign up button you consent to receive the above newsletter from Postmedia Network Inc. You may unsubscribe any time by clicking on the unsubscribe link at the bottom of our emails. Postmedia Network Inc. | 365 Bloor Street East, Toronto, Ontario, M4W 3L4 | 416-383-2300