Justin Hall's goal at 1:50 of overtime to give the visiting Lethbridge Hurricanes a 5-4 victory over the Regina Pats on Saturday.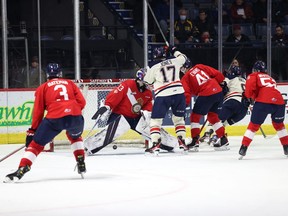 An overtime goal by Justin Hall cast a pall over the Brandt Centre on Saturday.
Advertisement
This advertisement has not loaded yet, but your article continues below.
Hall sniped 1:50 into sudden-death play to give the Lethbridge Hurricanes a 5-4 victory over the Regina Pats, who squandered leads of 3-0 and 4-2.
The winning goal came 26 seconds after a questionable hooking penalty was called on Pats defenceman Neithan Salame. Replays showed that Salame's stick never even touched Lethbridge's Yegor Klavdiev, but the whistle blew.
Regina led 4-2 before surrendering back-to-back third-period goals to Jett Jones. His second goal, with 38.6 seconds left in the third period, forced overtime before 4,049 spectators, many of whom booed the referees off the ice after Hall's game-winner.
It was a costly loss for the Pats, who are chasing Lethbridge — among other teams — in attempt to claim one of the eight playoff spots in the WHL's Eastern Conference.
Regina's emerged with a 20-27-3-1 record. Lethbridge improved to 23-25-2-1.
Connor Bedard and Braxton Whitehead scored for Regina during a first period in which Lethbridge was outshot 19-6.
Tye Spencer scored at 4:37 of the second period to give the Pats a 3-0 lead.
Lethbridge got on the board at 7:34 of the second period when Corson Hopwo scored on a power play.
Ty Nash sniped 12:07 into the second frame to pare Regina's lead to one goal.
Regina restored its two-goal lead at 18:12 of the second period when Bedard set up Tanner Howe, who scored on a nifty backhand. Jones handled all the scoring in the third period.
Lethbridge won on the strength of special teams. The Hurricanes were 3-for-5 on the power play. Regina was 0-for-7.
Advertisement
This advertisement has not loaded yet, but your article continues below.
"I thought 5-on-5 we carried the play for most of the time," Pats interim head coach Brad Herauf said. "I thought a lot of those power plays we were working for them. We got the power plays through our work, but as soon as we got the power play, we stopped working.
"They completely out-willed us on their penalty kill. They were blocking shots. They were hungrier than us. We had guys standing around watching, thinking it was going to be an easy game because 5-on-5 was going our way. We completely took our foot off the pedal and that hurt us.
"I just think it's karma. We didn't deserve it — flat-out. They were outworking us. Yeah, we had chances. Yeah, we had a couple good looks, but it's not going to go in when it's a bad shot here, a ricochet there. We have to work for those opportunities and tonight we were outworked."
Lethbridge was outshot 35-26, but timeliness was in the visitors' favour.
Time is running out for the Pats to make a playoff push. With 21 regular-season games remaining, they are 11th in the 12-team Eastern Conference.
The Calgary Hitmen (20-25-5-2) and Swift Current Broncos (20-28-5-2) are currently tied for the eighth and final playoff spot, with 47 points apiece.
The Prince Albert Raiders (21-28-2-1) are next with 45 points — one ahead of Regina.
Regina and Lethbridge have both played 51 games. The Pats, however, have played fewer games than Swift Current (four), Calgary (one) and Prince Albert (one).
The Pats, who fell 3-2 to the Red Deer Rebels on Friday, have lost the first two games of a four-game home stand. Regina is to return to action next weekend with games against Lethbridge (Friday) and Calgary (Saturday).
Advertisement
This advertisement has not loaded yet, but your article continues below.
EXTRA POINTS: Bedard increased his point-scoring streak to 15 games … Spencer, who has scored a goal in back-to-back games, was plus-3 on Saturday. Howe was also plus-3 … Klavdiev and Alex Thacker each had three assists for Lethbridge … Herauf continues to run the Pats' bench with head coach and general manager John Paddock sidelined by illness.
The news seems to be flying at us faster all the time. From COVID-19 updates to politics and crime and everything in between, it can be hard to keep up. With that in mind, the Regina Leader-Post has created an Afternoon Headlines newsletter that can be delivered daily to your inbox to help make sure you are up to date with the most vital news of the day. Click here to subscribe.
Regina Leader Post Headline News
Sign up to receive daily headline news from Regina Leader-Post, a division of Postmedia Network Inc.
By clicking on the sign up button you consent to receive the above newsletter from Postmedia Network Inc. You may unsubscribe any time by clicking on the unsubscribe link at the bottom of our emails. Postmedia Network Inc. | 365 Bloor Street East, Toronto, Ontario, M4W 3L4 | 416-383-2300