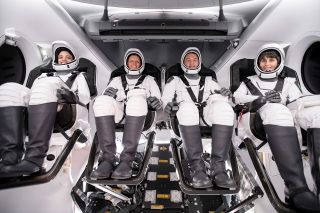 Crew-4 astronauts Jessica Watkins, Bob Hines, Kjell Lindgren and Samantha Cristoforetti on the Crew Dragon "Freedom."
(Image credit: SpaceX)

The four astronauts of SpaceX's Crew-4 mission to the International Space Station have had their launch pushed back again, to April 23.
SpaceX and NASA chose that date "to complete final prelaunch processing," agency officials said in a statement Tuesday (April 12). NASA said last week that April 23 was a backup option, after the mission was delayed a day from April 20 to April 21.
"The Crew-4 date also provides three consecutive launch opportunities with backups on Sunday, April 24, and Monday, April 25," NASA added in the new statement.
Related: Next SpaceX NASA crew launch adds rookie astronaut Jessica Watkins
NASA said that the extra time was added following the April 8 launch of the all-private Ax-1 mission to the International Space Station, which was carried out by SpaceX from the same pad that Crew-4 will use — 39A, at NASA's Kennedy Space Center (KSC) in Florida. 
NASA officials have already alluded to the logistics required to get the launch pad ready for another Falcon 9 liftoff in relatively short order. (Like Ax-1, Crew-4 will lift off atop SpaceX's workhorse rocket.)
KSC has been busy lately in terms of launch preparations. Just down the road from Pad 39A, Pad 39B is currently hosting the "wet dress rehearsal" of NASA's Artemis 1 moon mission. 
The testing has been modified several times, and ultimately scaled back, due to ongoing technical problems. The procedures were temporarily halted to allow for the launch of Ax-1, and then resumed. The next major stage of the test, which includes fueling up the core stage of Artemis 1's Space Launch System rocket and conducting several practice countdowns, is expected to take place on Thursday (April 14).
NASA hopes to send Artemis 1 on a round-the-moon uncrewed mission this summer to prepare for the rest of the moon program, which includes a crewed mission around the moon for Artemis 2 in 2024 and a landing mission for Artemis 3 in 2025 or 2026.
Follow Elizabeth Howell on Twitter @howellspace. Follow us on Twitter @Spacedotcom or Facebook. 
Join our Space Forums to keep talking space on the latest missions, night sky and more! And if you have a news tip, correction or comment, let us know at: [email protected]
Elizabeth Howell, Ph.D., is a contributing writer for Space.com since 2012. As a proud Trekkie and Canadian, she tackles topics like spaceflight, diversity, science fiction, astronomy and gaming to help others explore the universe. Elizabeth's on-site reporting includes two human spaceflight launches from Kazakhstan, and embedded reporting from a simulated Mars mission in Utah. She holds a Ph.D. and M.Sc. in Space Studies from the University of North Dakota, and a Bachelor of Journalism from Canada's Carleton University. Her latest book, NASA Leadership Moments, is co-written with astronaut Dave Williams. Elizabeth first got interested in space after watching the movie Apollo 13 in 1996, and still wants to be an astronaut someday.